The ANARK® brand (previously known as IRONCORPS®) was founded by Queensland couple Ben & Jacqui Hoole. We've been specialist online distributors of quality activewear for over 15 years, and have fitness and fight sports industry experience spanning 3 decades. Over the years, we've not only developed considerable expertise within the gym and combat sports industries, but, as long-time online specialists, we're able to deliver outstanding customer service and online shopping experiences.
At ANARK®, we sell top-end, enthusiast-level gym, boxing and martial arts products - our own brands alongside a number of complementary leading International brands - at some of Australia's most competitive prices, backed by professional and knowledgeable customer support and quick, easy and reliable online shopping.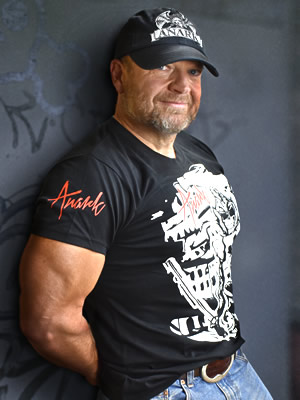 Ben Hoole (MBA, MPET., B.Comm) has over 30 years of small business experience and holds an undergraduate degree in accountancy, a master's degree in business administration, and a master's degree in professional education and training. Prior to founding our company in 2001, Ben worked for around 15 years as a coach/ trainer, qualified naturopathic nutritionist and gym owner/ manager.
Ben is a former competitive bodybuilder and long time boxer and martial artist. At around 50 years of age, Ben has now been lifting and fighting uninterrupted for over 30 years, and maintains intensive daily training in bodybuilding, boxing, Muay Thai and Taekwon-Do. His wife and daughter are also both martial artists.
Ben is also a long-time digital artist and designs many of our products.